Hotels with Jacuzzi in room Pittsburgh
Coming to Pittsburgh? Looking for a hotel with a hot tub in room? We go you! You are looking for a place to enjoy after a busy day or you just want to make a surprise for your loved one? We go you! These hotels have jacuzzi that fits everyone's needs and wishes. From downtown to the suburbs, all of these hotels offer everything you need for a relaxing and enjoyable stay. Check out hotels with hot tub in Pittsburgh, book your room today and enjoy in your hot tub time!
Romantic Hotels with Jacuzzi and Hot Tub in Room Pittsburgh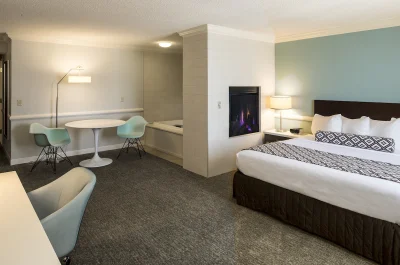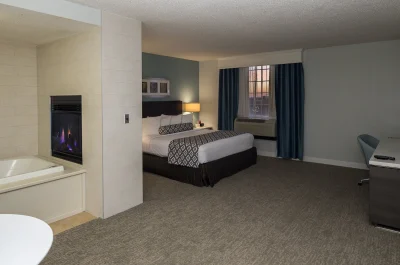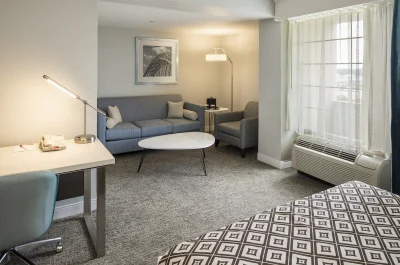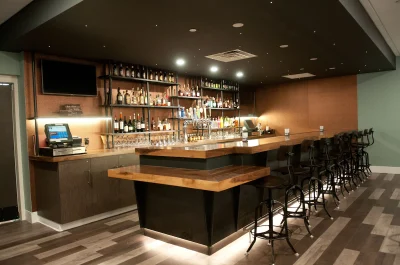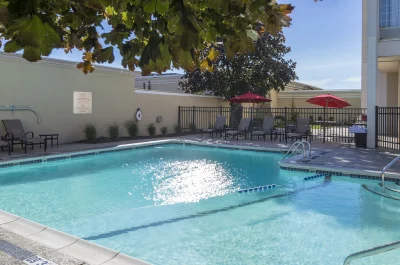 Crowne Plaza Suites Pittsburgh South, an IHG Hotel
164 Fort Couch Road, Bethel Park, PA
The Crowne Plaza Hotel and Suites Pittsburgh South is 8.8 miles away from downtown Pittsburgh and offers complimentary WiFi and an onsite restaurant. Guests can easily access the Light Rail System for a quick ride into downtown. The hotel also features a 24-hour fitness center, a seasonal outdoor pool, and is located within driving distance of several attractions including museums and sports complexes. St. Clair Country Club is 2.5 miles away from the property.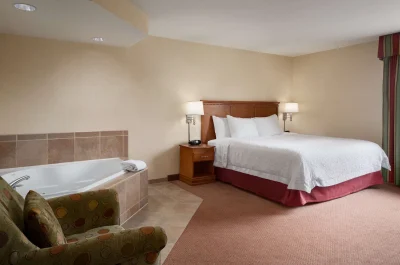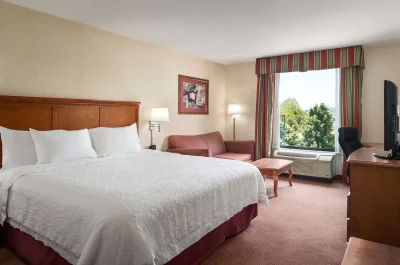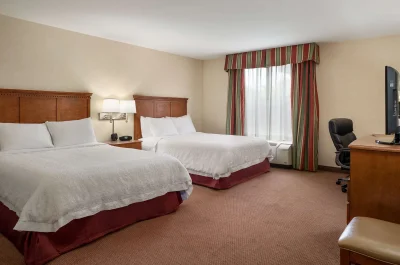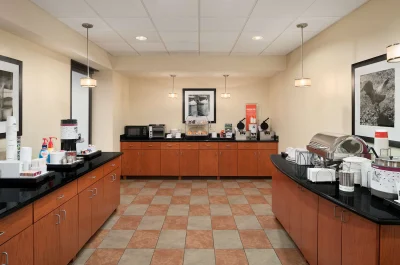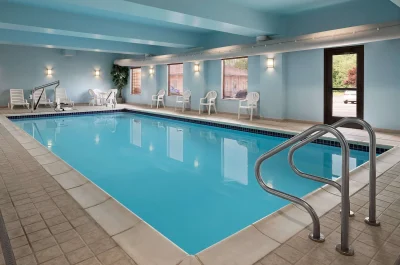 1525 Broad Avenue Extension, Belle Vernon, PA
Hampton Inn Belle Vernon, PA, is located near major highways and offers 71 guest rooms with amenities such as Jacuzzi tub in room, high-speed internet, coffeemaker, and ironing board. The hotel is close to local attractions such as Seven Springs Resort, Falling Water, and Idlewood Park, and is approximately 35 minutes from downtown Pittsburgh. Shopping centers, malls, and golf courses are located nearby.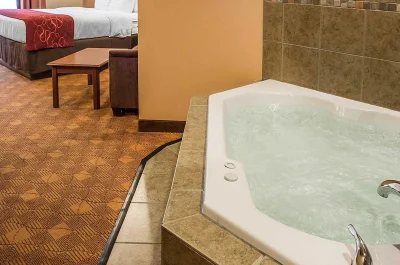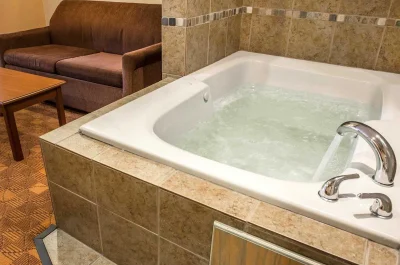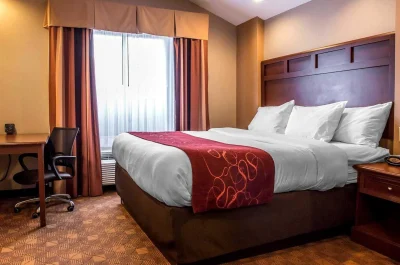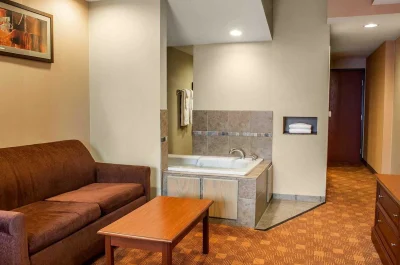 1523 Old Brodhead Rd, Monaca, PA
The Comfort Suites Monaca hotel in Pennsylvania is conveniently located 20 minutes from Pittsburgh International Airport and 30 minutes from downtown Pittsburgh. Guests can enjoy free Wi-Fi, a boardroom, fitness center, and luxurious suites with flat-screen TVs and charging outlets. Breakfast includes hot options and grab-and-go bags. Nearby attractions include sports stadiums, amusement parks, and museums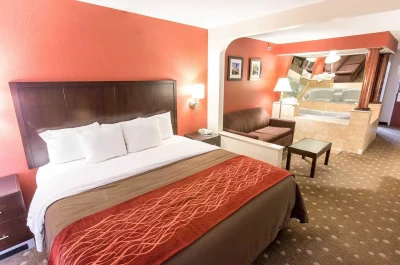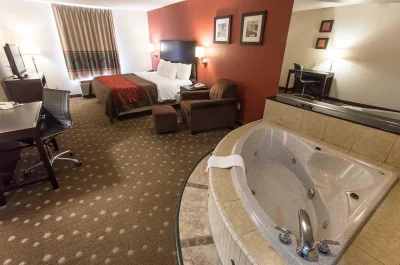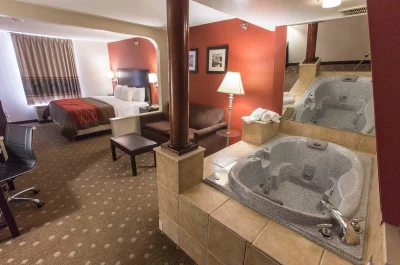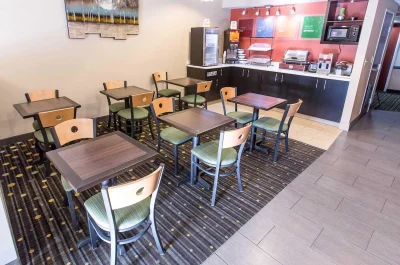 4770 Steubenville Pike, Pittsburgh, PA
The Comfort Inn Pittsburgh is a conveniently located hotel near PNC Park in Pittsburgh, Pennsylvania. It provides guests with complimentary breakfast and evening beverages, as well as access to an exercise room. Nearby attractions include Pittsburgh Zoo, PPG Aquarium, Kennywood Amusement Park, and Sandcastle Waterpark.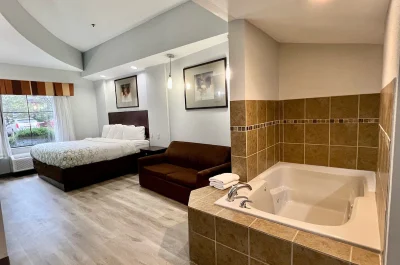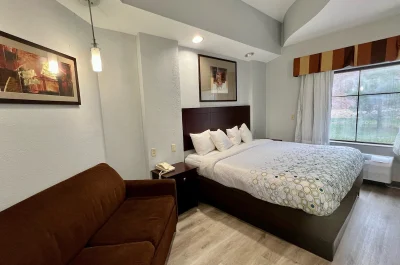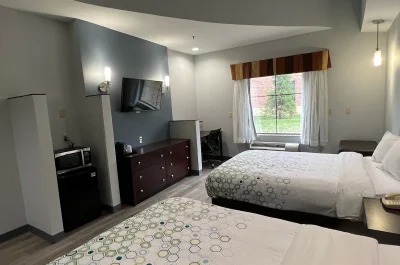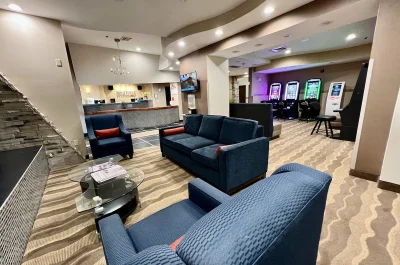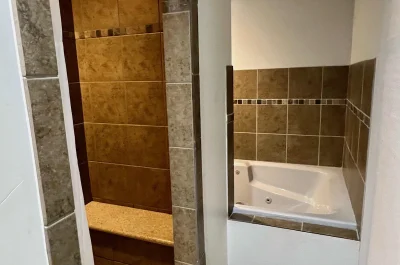 HomeTowne Studios & Suites Washington
2110 North Franklin Drive, Washington, PA
HomeTowne Studios & Suites Washington is conveniently located near Meadows harness racetrack and Tanger Outlets shopping mall. It is also close to several universities and attractions like CONSOL Energy Park. Pittsburgh's Rivers Casino, Heinz Hall, and Phipps Conservatory and Botanical Gardens are also nearby. The hotel features luxurious amenities, including a state-of-the-art fitness center, and all suites have 32-inch LCD televisions and stylish furnishings.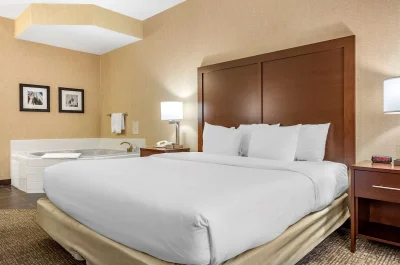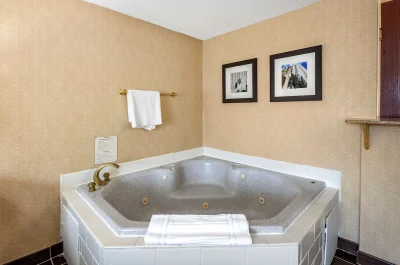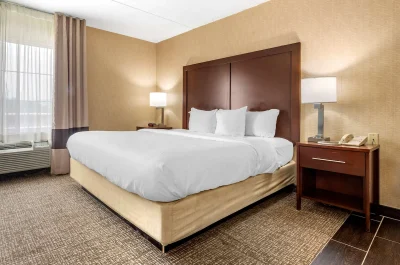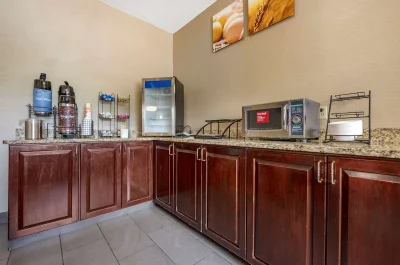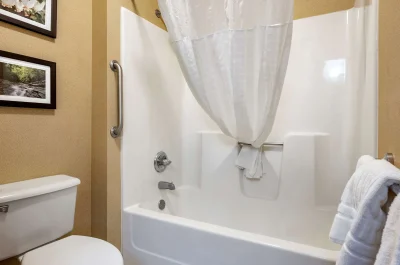 237 Meadowlands Blvd, Washington, PA
The Comfort Inn Meadowlands is located near CONSOL Energy Park and local colleges. Other nearby attractions include Meadows Racetrack & Casino, Tanger Outlets, and various historical sites. Pittsburgh, with its cultural events and universities, is a short drive away. The hotel offers free breakfast, high-speed internet, an indoor pool, and meeting facilities. Rooms come equipped with microwaves, refrigerators, and cable TV, with whirlpool bathtubs available. Valet cleaning service is also available. It is located 20 miles from Post-Gazette Pavilion.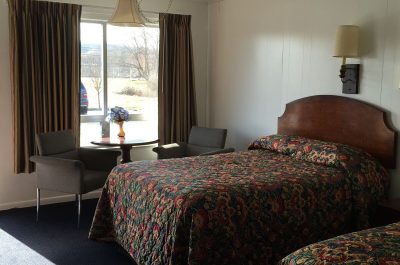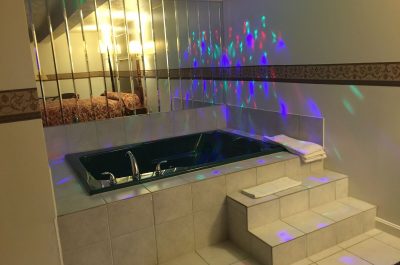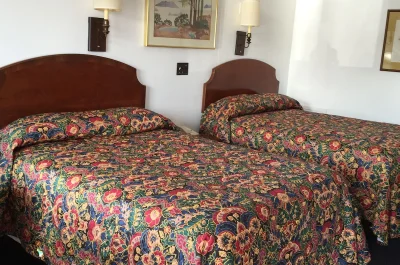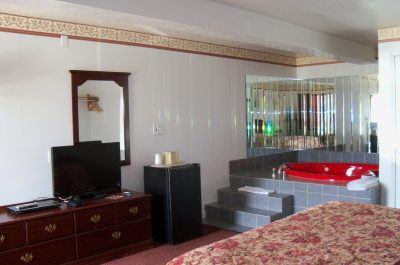 2571 Freeport Road, Pittsburgh, PA
This Pittsburgh motel is situated 13 miles away from the city center and offers complimentary Wi-Fi access and cable TV with HBO channels. The Pittsburgh Zoo and Aquarium can be reached in 10 minutes by car. The Valley Motel Pittsburgh provides guest rooms with a refrigerator and DVD player. Some rooms have a spa bath. The motel offers coffee in the lobby every morning, 24-hour front desk services, and free parking. Popular attractions such as Heinz Field and Pittsburgh Mills Shopping Mall are also located nearby.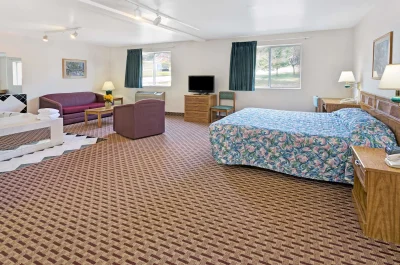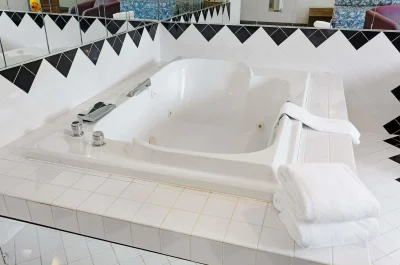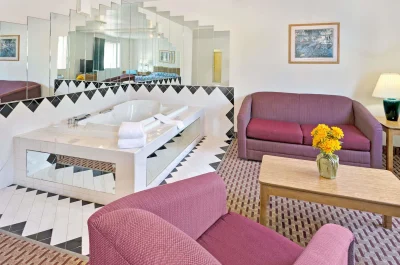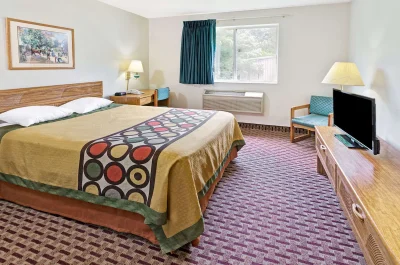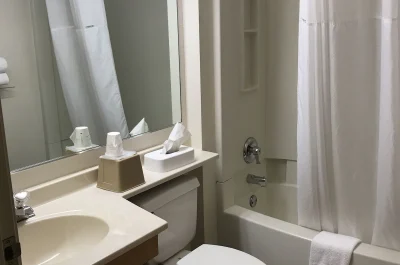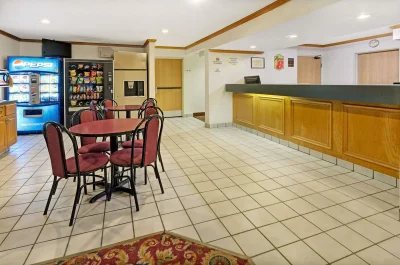 Super 8 by Wyndham Canonsburg/Pittsburgh Area
8 Curry Avenue, Canonsburg, PA
Super 8 Canonsburg/Pittsburgh Area provides air-conditioned rooms with free WiFi, TV, work desk, coffee maker, and private bathroom. The 24-hour front desk offers area tips. Located in Canonsburg, Pittsburgh is 15.5 miles away and Washington is 7.5 miles away, while Pittsburgh International Airport is 16 miles from the property.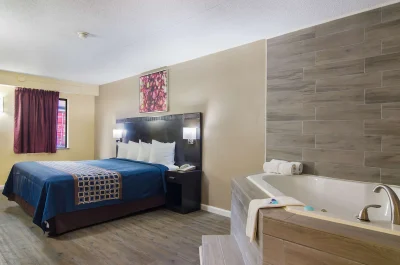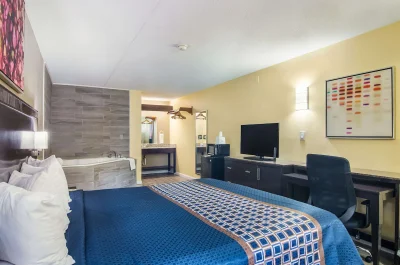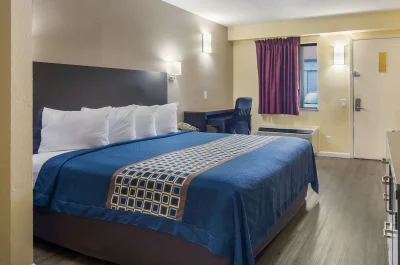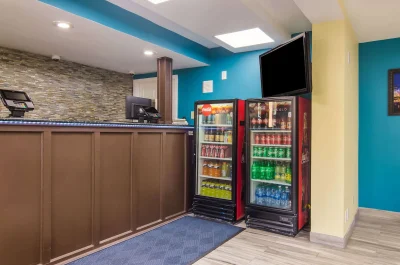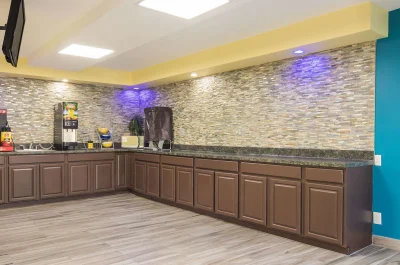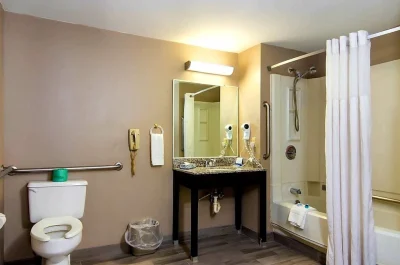 Rodeway Inn & Suites Monroeville - Pittsburgh
2727 Mosside Blvd, Monroeville, PA
The Rodeway Inn & Suites Monroeville-Pittsburgh offers free Wi-Fi and is located off the Pennsylvania Turnpike, a 20-minute drive from Pittsburgh city center. Guest rooms include amenities such as cable TV, work desks, and coffee machines. The hotel also has a fitness center and 24-hour front desk services, while several restaurants are easily accessible by car. Local attractions include Heinz Field (16 miles away) and the Monroeville Convention Center (2 miles away)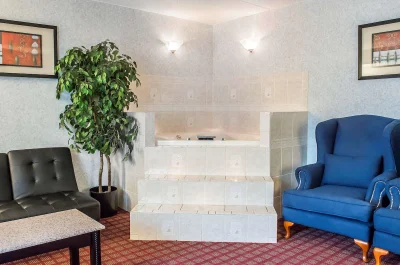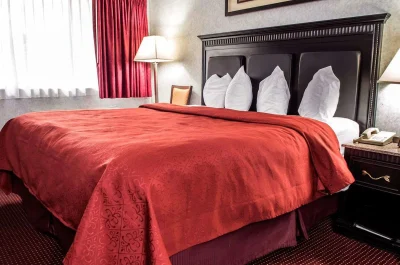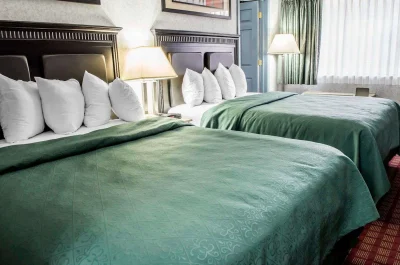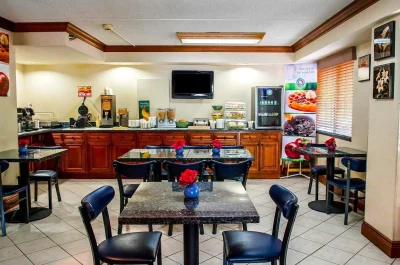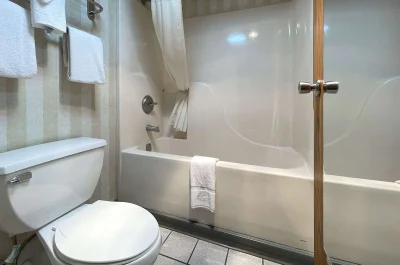 Quality Inn & Suites North
5137 William Flynn Highway, Gibsonia, PA
The Quality Inn & Suites North, located at the Pennsylvania Turnpike and State Route 8 in Gibsonia, PA, provides easy access to various attractions such as Hartwood Acres Park and Rivers Casino. The hotel features free breakfast, Wi-Fi, fitness center, pet-friendly accommodations, and rooms equipped with modern amenities. Whirlpool suites are also available.
More hotels with Jacuzzi in room near Pittsburgh
FAQs about romantic hot tub hotels in Pittsburgh
What is the price of a hotel with jacuzzi in Pittsburgh?
It usually costs between $60 and $100 per night for a hotel room with a private Jacuzzi in Pittsburgh, but the prices can be different depending on when and where you book. It's smart to check out your different choices since lots of hotels have sweet deals and markdowns. If you're reserving a hotel room that has a hot tub, you gotta think about how big the hot tub is, what kind of extras you can get at the hotel, and where exactly the hotel is. All of this stuff can change how much you end up dishing out for your stay.
How to book hotel with jacuzzi in room near Pittsburgh?
We made a selection of the best rated hotels with jacuzzi and hot tub in room in Pittsburgh. You can see information about rooms with hot tub, hotel ratings, location and brief description. After you choose the hotel that you like, click the button 'See available rooms' and it will take you to our partners site where you should select your desired date so it can show availability of that hotel.
After that, website will compare rates and find the best price for you across different platforms and you should choose according to your budget. When you get redirected, you will proceed with filling up other necessary information about your stay.
Some hotels have option to pay when you arrive to hotel, while others require from you to pay upfront with possibility of free cancelation.
We provided a list of Pittsburgh hotels with jacuzzi in room.
But, not all rooms in these hotels are equipped with jacuzzi or hot tub. Before you make a reservation, make sure you chose the right room that you wanted!
For example, if you want room with jacuzzi, you need to select room with jetted tub, hot tub, jacuzzi or whirlpool. Also, you can visually check in gallery if the room has jacuzzi inside.
* We recommend contacting hotel or travel agency directly and confirming that you are interested in room or suite with jacuzzi.